Saving and investing for college has a new option for Virginia residents. It's called the Tuition Track Portfolio. It is an offering within the Invest529 program and it is Virginia529's answer to the PrePaid plan that was in effect from the late 90's to around 2017 (but with key differences).
IT'S GUARANTEED.
The TTP is a principal-protected portfolio, so you cannot lose the amount of your contributions. If the weighted average tuition goes down over the time you own the units, your principal (contributions) are protected and earns tuition track interest. As of the date of this post, I cannot find this interest rate listed anywhere, but I would assume it's around the savings account rate.
IT'S TIED TO THE COST OF TUITION IN VIRGINIA.
This is how they determine the price of the units: One unit of the TTP has a price and a payout equal to 1/100th of the Weighted Average Tuition of 15 Virginia public colleges and universities. The price of a unit and the payout changes every July 1st, based on data from the year prior. So the price is about to go up from around $136 to $138 on July 1, 2021.
Of note here:
The weighted average tuition is based on enrollment at each of these schools, so Mary Washington's tuition would factor into the unit price less heavily than VCU or Virginia Tech.
Individual schools may require more than 100 units to attend at the time of enrollment. Holding 100 units does not guarantee full tuition at all public universities in VA. As you can see below, 100 units would cover just over half of William and Mary's tuition.
TUITION DOES NOT EQUAL THE COST OF ATTENDANCE.
This portfolio only tracks tuition, so 100 units would pay for the weighted average tuition at the time of enrollment. This excludes some fees, room and board, travel, technology, and book/materials. The expenses outside of tuition make up for a large part of the cost of college. Here's a snapshot from JMU's (Go Dukes!) website so you can see the difference between tuition and cost of attendance.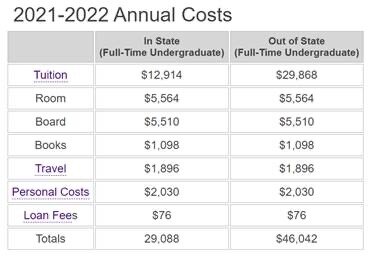 That being said, units can be used for any qualified higher education expense, not just tuition (books, room & board, etc.), and can be paid directly to the institution, to the student, or to the account holder
THERE ARE SOME RULES FOR GETTING TAKING FULL ADVANTAGE OF THE PROGRAM.
Rollovers – You can rollover any 529 funds into this tuition track portfolio, but there are some restrictions on rolling it back out if you want to change your investment strategy. You must have held the units for 3 years to achieve maturity and the beneficiary must be 18 or have graduated to receive the current payout.
Maturity – If you do not hold the units for 3 full years, you only receive your contribution back. If you hold it for three years but decide to use the money or roll it over into another portfolio before the beneficiary graduates from high school, then you receive your contributions plus interest earned, not the full payout.
IT'S BRAND NEW, SO THERE ARE SOME UNKNOWNS.
No performance is listed because this is a new portfolio. You get a guarantee of principal and if you meet all the maturity requirements, then the portfolio will "track tuition" as defined above. However, there is a political push for "free college". There may be legislative steps along the way though – like capping tuition increases at x% annually. Those steps may or may not impact the costs of college outside of tuition. It's hard to assess the performance in light of all this information. You can see historical performance for the other portfolios, like Target Enrollment portfolios, here: Performance – Target Enrollment – Of course, there are no guarantees for most portfolios.
Fees – As of right now, there are no asset-based fees for the TTP. I was surprised to learn this and might dig in further. Fees are subject to change.
This does not have to be an all-or-nothing decision. You have the option to split your child's accounts between multiple portfolios. VA529 calls the different portfolios "accounts" which is confusing.
If this post helped you think through your student's investments, then please share it with someone who may find it useful. It's may be a good idea to consult with a fiduciary financial advisor when changing investments. We offer 529 and college planning reviews to our financial planning clients as a part of their holistic financial plan. Please reach out if we can help you think through college planning or offer advice on investments.