Frequently Asked Questions
Are you a fiduciary?
Yes! We established our firm as a registered investment advisor, and as such are fiduciaries. Being a fiduciary means that we are legally bound to put our clients' interests above our own. We do not receive fees from other vendors or third parties, which can result in a conflict of interest. We are proud to be able to offer our clients this level of commitment and take our fiduciary responsibilities seriously. This also aligns well with our company values of trust, transparency and communication.
Read more about "why fee only."
What associations are you affiliated with?
We are affiliated with the National Association of Personal Financial Advisors. For over 36 years NAPFA has been the standard bearer for fee-only, fiduciary financial advisors advocating for high professional and ethical standards.
We're also members of the Financial Planning Association, the leading organization for certified financial planning professionals.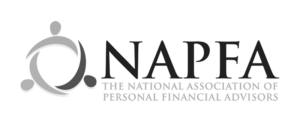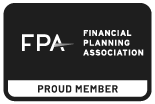 Do you outsource investment management?
We offer our clients access to our proprietary investment portfolios, with all portfolio management decision-making by the Alexis team. On occasion, we engage Green Alpha Advisors for clients who want access to their Sierra Club Portfolio (and a couple of others).
Do I even need a financial plan? When should I have one? Do I have enough money to need one?
Yes! Many people think that they need substantial resources before a financial plan is needed, but this is not the case. No matter what your situation is, a financial plan can be instrumental in helping you in meeting your goals – paying down debt, building wealth, creating an emergency fund.
How do I start?
Whether it be financial planning, investment management, or a company retirement plan that you want to discuss, we encourage you to reach out and schedule a meeting. Once we sit down and discuss, we can figure out where to go from there. A great first step is always familiarizing yourself with where you already are and checking in on any goals you may have for the future!
What can I expect?
No matter what services are of interest, you can always expect transparency, communication, and a personalized approach. We will consider your current circumstances, personal values, and future goals before formulating a proposal. For more detailed information, check out Our Approach or contact us.
Is this right for me?
Alexis Advisors loves working with curious people, particularly those who are interested in where their money is going and the impact it can have on our community and the planet as a whole. We aim to offer you an informed, involved, inspired approach to meeting your financial goals. We aren't the right fit for everyone, however. Check out Our Approach and see if our values align with yours.
Can you help me with my company 401(k) plan?
Absolutely! Your 401(k) plan may be where most of your money is invested. We can make investments on your behalf or we can guide you on allocations.
How does billing work?
Financial planning is billed on an hourly basis, with the total number of hours depending on the complexity of the plan. Investment management fees are billed quarterly and are based on a percentage of assets managed. Depending on assets managed, financial planning services may be included in your advisory fees.
What if I'm not sure I can afford financial planning?
We like to consider creating your financial plan as an investment in your financial future. To make these services accessible, we offer installment payment plans. And if you feel like you just can't afford it, we allocate a chunk of hours towards pro bono financial planning every year. Whatever your situation, we encourage you to reach out.
How do I learn more about investing?
What about charitable giving, or having important money conversations? For a general overview, we encourage you to check out our money insights page. We are always striving to educate those who come in and meet with us, so give us a call!