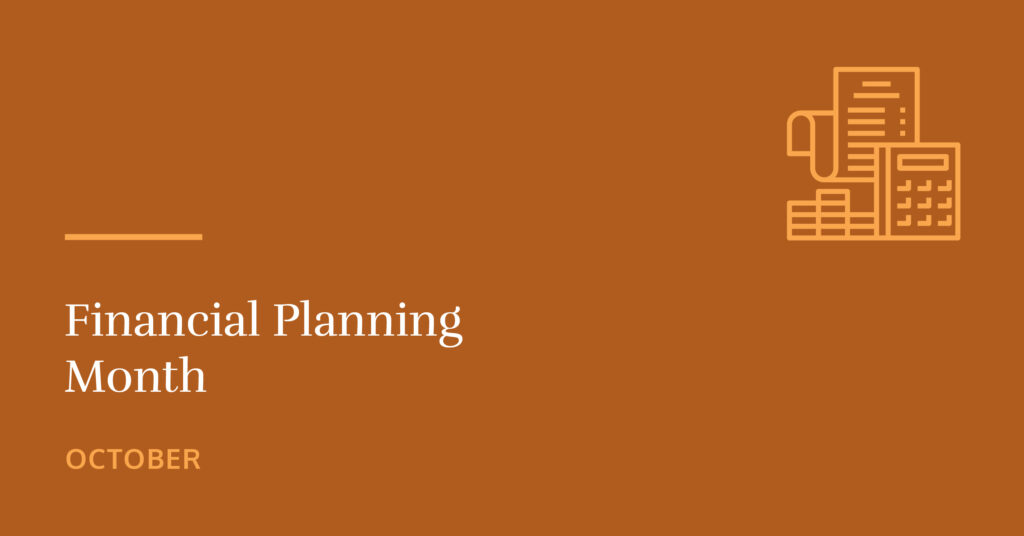 October is financial planning month. But what exactly is financial planning?
The official definition from the Certified Financial Planner™ (CFP®) website is the following:
Financial planning involves looking at a client's entire financial picture and advising them on how to achieve their short- and long-term financial goals. From saving for education and planning for retirement to effectively managing taxes and insurance, financial planners develop valuable relationships with their clients to provide them with confidence today and a more secure tomorrow.
But is financial planning just about money?
As a long-time yoga practitioner and meditator, money has always represented more to me than just achieving my goals. It's about how having money – or not having it – makes me feel. Do I want to feel secure? Empowered? Informed? Free? What do I value? How do I spend, invest, and give my money so it aligns with what I value?
Based on our client experiences, I don't think I am alone. We work with clients every day and observe that a financial plan is much more than just setting goals and achieving them. It's about creating a road map to live your best life and it's about how you feel when you think and engage with your money.
Our team talks quite a bit about "mindful planning." Mindful planning is a more holistic approach to managing your financial life. It integrates your financial goals with your values, emotions, and long-term aspirations. It encourages you to be present in your financial decisions. It empowers you to make choices that align with your values and that promote financial well-being. The "right" financial plan should leave you feeling stronger – with a good foundation and roadmap for your life, not just a plan to meet your money goals.
Why work with a financial planner?
There are never guarantees, but below are a few potential benefits of working with a planner. 
Reduced Financial Stress
Mindful financial planning allows you to gain a clearer understanding of your financial situation, which can alleviate the anxiety and stress we all feel when talking about money. The right financial planner can help free up time, so you don't have to do it all yourself.
Improved Decision-Making
When you approach financial decisions mindfully, you're more likely to make choices that serve your long-term interests, rather than succumbing to impulsive spending or investment decisions. Working with a financial planner can help you make sure you are making the best possible decisions about your money, and decisions that align with what you value most.
Enhanced Financial Security
By setting clear financial goals and following a plan, you can work towards achieving financial stability and security for yourself and your loved ones.
Improved Accountability
A financial planner can serve as an accountability partner to check in to help you meet your goals.  
Improved Communication
A planner can also be a great facilitator of what is often one of the most high-conflict areas in a partnership/marriage. A planner can help bridge the tough conversations between spouses related to financial matters.
What is the typical financial planning process?
The planning process begins with a conversation about understanding your personal and financial circumstances, as well as what you value. Then we will work together to identify your goals and your long-term aspirations. Do you want flexibility in your work? Do you value a college education for your kids? Do you want to purchase a vacation home so you can gather your family together on a regular basis? Do you want to retire early?
Next, we will analyze your current course of action by evaluating income, assets, and spending habits. Then we identify potential alternatives that may result in better outcomes to help you achieve your goals.
Finally, we will develop a summary that will explain our findings and compare your current course of action to the potential alternatives we are recommending and meet with you to review.
And now, it is your turn! The financial plan likely recommends changes to spending habits, savings, or debt repayment, and it is up to you to execute these changes to achieve your financial goals. During this phase, you are working hard on changing your money habits and attitudes, which is never easy. We are here to help. As time progresses, we are here to be a resource and to help you monitor your progress and update your plan. 
How much does it cost?
It depends, and it's important for you to understand. The way the financial planner is compensated can often make a difference in the recommendations they make for you. Many advisors work under a standard that requires that their recommendations are "suitable" for your situation. However, believe it or not, "suitability" does not always mean that this is in your best interest. Advisors that work under the "suitability" model may receive a commission, or commission plus fees, based on the financial products they sell. These types of plans may be sold as a "free plan," but they aren't free because of the commission structure. Additionally, under this model, it may be difficult to discern your actual total cost. 
On the other hand, a "fee-only" financial planner works under a different standard – the "fiduciary standard" that legally requires the advisor to make recommendations that are in your best interest. A "fee-only" planner is not compensated through commissions, product sales, or mutual fund fees, but through paying out-of-pocket and/or via investment management fees.
Alexis Advisors is a fee-only fiduciary. We offer an hourly rate, so we are only charging for the time it takes to develop your plan. Yes, you pay us out of pocket (and in some instances, if we are managing your investments, these fees cover the planning cost), but in the meantime, we are not selling you products that you may not need. Nor are we collecting commissions – which can create a conflict of interest. (For example, the more products we sell, the more commissions we make.)
How do you know if you need a paid plan?
There are a million online calculators. And AI may be able to create a plan, so why work with an advisor?
Financial planning is equally about running your numbers as it is about behavior management and having an accountability partner. Online calculators and AI may be able to look at your account balance and spending to tell you based on a specific formula how much you need to save or how you should aim to budget. However, a financial planner can look at your entire financial situation and identify methods that will work for your actual circumstances and behaviors. And so far, we haven't found AI tools that can work with your CPA and Estate attorney to make sure your estate is set up most efficiently!
But there are key questions to consider whether you would benefit from working with a financial planner:
Do you need help figuring out how to prioritize your money? Paying off debt vs. savings.
Are you expanding your family and not sure if you should set up a college savings plan?
Are you changing jobs and need to figure out how best to leverage your new employer's benefit package?
Have you recently received an inheritance and are not sure what to do?
Are you facing a big life transition, such as retirement?
Do you need an accountability partner to help keep you on track?
Do you need an intermediary to facilitate the conversation with your partner?
Where and how do you start?
Start by doing your research. What are your priorities? What do you value most? What does money mean to you? What's important to you?
We have established that you want to work with a fee-only fiduciary. What else should you look for?
Do you prefer to work with a planner with a designation, such as ChFC® or CFP®?
Do you want to work with someone local? Is meeting in person with your advisor a priority, or is it more important to have values alignment?
Is working with a "social enterprise" important to you, where your values are aligned? If so, you should explore the Certified B Corp community or talk to us!
Do you want to work with a woman?
Do you prefer working with a big firm with name recognition, or a small firm where you may get more individualized attention?
There is a lot to consider, and we are here to help break it down for you. Reach out if we can help.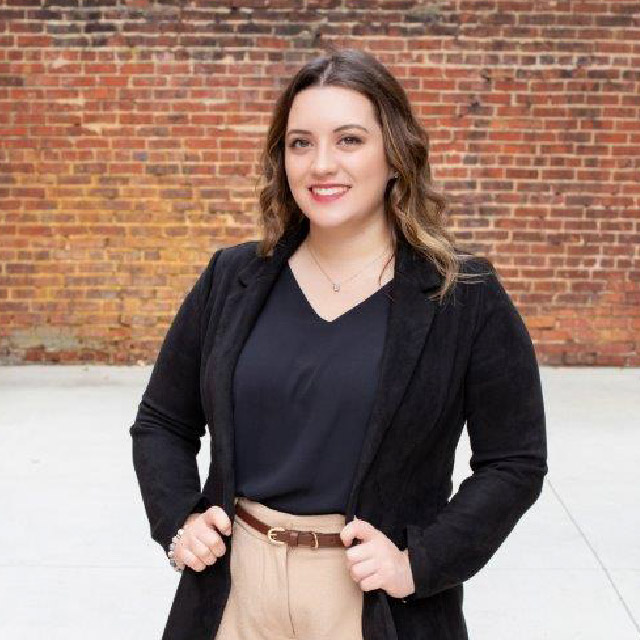 Samantha Vicchiarelli, ChFC®
Associate Advisor
samantha@alexisadvisors.com
The ChFC® is the property of The American College of Financial Services, which reserves sole rights to its use, and is used by permission.